News & Alerts
NEW Excel Club Checking Benefits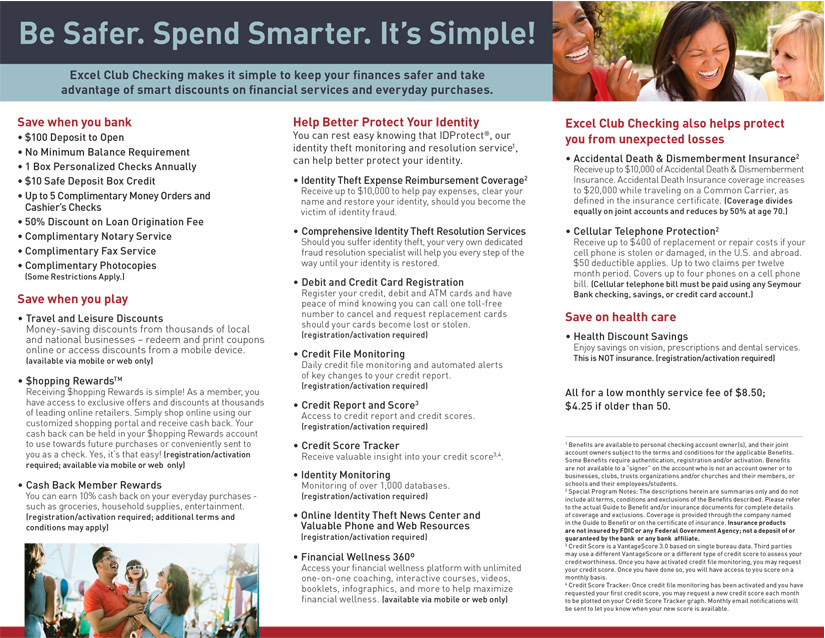 New Site
We hope that you are as proud of our new website as much as we are! We made these changes for many reasons. Our biggest reason was to provide you, our customers, with the services that you have requested in our Facebook Survey's. We have provided you with a more user-friendly website with responsive features that will adjust to any screen that you are viewing us on.
Other New Features include:
More Surecharge Free ATM Locations (33,000)
A Mobile App that can be customized to your liking
Fight Fraud by turning your Debit Card On/Off in the Mobile App
Quicker Customer Service to our customers!
Our new system will allow us to offer you more services in the coming months.
Check out the video's below for more information. 
*New Online Banking and Mobile App
*New Debit Card's and Network
Holiday Open House
The Seymour Bank would like to invite you to our annual Holiday Open House. This annual event consists of cheese and crackers as well as cookies in the lobby.  This year we have a special event going on thanks to Santa stopping by early.  We will be giving away a 32GB iPad Mini on Friday, December 21st.  You can enter by coming into the lobby of either of our banking locations or by going to our Facebook page.  All you have to do is answer 2 questions and your name will be entered.  If you are a Facebook fan of The Seymour Bank feel free to invite your friends to be a part of this giveaway as well.  By liking The Seymour Bank on Facebook your friend and you get an extra entry into the drawing.  All they have to do is write on our wall and state who it was that sent them.  
Good luck and hope to see you there! 
 
Investor Alert: Pre-IPO Investment Scams
 The SEC's Office of Investor Education and Advocacy is issuing this Investor Alert to warn you about investment scams that purport to offer investorsthe opportunity to buy pre-IPO shares of Facebook, Twitter, Groupon, orother popular companies. SEC staff is aware of a number of complaints and inquiries about these types of pre-IPO investment scams, which may be promoted on social media and Internet sites, by telephone, email, in person, or by other means.
In September 2010, a judgment order was entered in favor of the SEC based on allegations that a scam artist had misappropriated more than $3.7 million from 45 investors in four states by offering fake pre-IPO shares
of companies, including Centerpoint, AOL/Time Warner, Inc., Google, Inc., Facebook, Inc., and Rosetta Stone, Inc. In addition, the Financial Industry Regulatory Authority (FINRA) issued a recent investor alert about these types of scams. While offerings of pre-IPO shares in a company are not uncommon, unregistered offerings may violate federal securities laws unless they meet a registration exemption, such as restricting the private offering to "accredited investors"-- investors who meet certain income or net worth requirements.
Investors should be mindful of the risks involved with an offer to purchase pre-IPO shares in a company. As with any investment, we encourage investors to research thoroughly both the investment product and the professional offering the product before making any investment decision.
May 10, 2012 | Investor Alert

Mid-Year Market Recap
Mid-year economic conditions have provided more reasons for investors to take a defensive posture.However, we adhere to our 2011 forecast of modest single-digit gains for the stock market in 2011, despite recent economic data introducing more market volatility. We do not envision a return to recession or a bear market for several reasons including:
The economy has created about  200,000 new private sector jobs per month this year.

Businesses are increasing their spending and driving growth after a decade of under-investing

The declining US dollar is boosting earnings and making U.S. products more competitive.
U. S. businesses have a reserve of cash to spend on hiring, capital, dividends, and aquisitions.
Nevertheless, we believe the recent spate of weaker-than-expected economic reports, while driven in part by a number of temporary factors such as supply chain disruptions stemming from the Japan earthquake and tsunami, signal the economy has entered a period of slower and uneven growth.
June 15, 2011 | Mid-Year Market Recap
E-Statements
The Seymour Bank now offers E-Statements!  
 
E-Statements are your very own bank statements that are sent to you by email.  They are a quick and easy way to access your bank statements 24x7.  You can access your statement as well as your check images anytime it is convenient for you.  It's safe, efficient, and protects the environment.  Make the switch today. 

June 10, 2011 | E-Statements 
End of 2010 Market Recap
The end of 2010 brought continued good news for domestic stocks as both the Dow and S&P 500 indexes hit fresh two-year highs. The NASDAQ is now just under 7% away from its 2007 high of 2,861 while the small-cap Russell 2000 retained its grip on the leadership position for the year-both have more than doubled since their March 2009 lows. 
December 29, 2010 | End of 2010 Market Recap
Market Recap
For the third consecutive week, domestic equity markets continued their surprising September rally, returning both the Standard & Poor's 500 and the Nasdaq to positive territory for the year. The S&P 500 is now down just 7.5% from its high this spring. 
The S&P 500 is an index of 500 widely held stocks that is generally considered representative of the U.S. stock market.

The NASDAQ Composite Index is a market-value weighted index of all common stocks listed on the NASDAQ stock exchange.p>

September 18, 2010 | Market Recap
Phishing via telephone
The Federal Deposit Insurance Corporation (FDIC) has notified financial institutions that it has received numerous reports of suspicious telephone calls about the caller claiming to represent the FDIC and is calling regarding the collection of an outstanding debt. The bogus callers have claimed that they are collecting on delinquent loans that were applied for over the Internet or were made through a payday lender. The loan may not even exist; regardless the caller attempts to prove the authenticity of the claim by providing sensitive personal information such as name, Social Security number and date of birth. Never give anyone this information unless you, the customer, initiate the call. If you or someone you know has received a call similar to the call described in this article, refer to our 
Fraud & ID theft section
 for information on how to proactively protect your sensitive information. The FDIC does not collect debts from operating lenders and financial institutions.
September 8, 2010 | Phishing via telephone
Counterfeiting
A man from Springfield recently received a 55-month federal prison sentence for a bank fraud conspiracy and a tax fraud scheme. Max Snodgrass, 32, created more than $100,000 in counterfeit checks. Along with the $100,000 in counterfeit checks, Snodgrass also helped file bogus tax returns that totaled $108,599 along with his crew that consisted of John Sedersten, Karen Harris, and Bryan Ray. The U.S. Secret Service, IRS-Criminal Investigation, and the Greene County Sheriff's department investigated the cases.
June 1, 2010 | Counterfieting
Investments
The S&P 500 is an index of 500 widely held stocks that is generally considered representative of the U.S. stock market. The average total return of the S&P 500 during the month of May over the last twenty years has been a gain of 2.5% which makes it the best performing of any of the 12 months over the last two decades. However, the stock index lost 8% in May of 2010, it's worst monthly performance since February 2009.
A "correction" in the stock market is defined as a peak-to-trough fall of 10% or more, but less than a 20% decline, which is the threshold at which a "bear market" is achieved. The largest correction that took place during the 2002-07 bull market was a 13% tumble that occurred over a 4-month period. Currently, since closing at a bull market peak of 1217 on Friday (4/23/10) the S&P 500 stock index has fallen 10.5% to 1089 as of the close of trading Friday (5/28/10).
May 29, 2010 | Investments 
SBA Loans
The Seymour Bank offers a variety of loans and works with many different loan programs. One of these programs is the Small Business Administration. The Seymour Bank has partnered with SBA to help start-up and existing businesses. SBA has done this by guarantying a portion of the loans made by a participating lending institution. This reduces the risk to the lender and often leads to a lower interest rate for the borrower, who remains obligated for the full debt, even in the event of default. Through the American Recovery and Reinvestment Act, SBA has relieved the fee associated with these loans and has increased the guarantee backing them. The act has been renewed three times and under the current extension enacted in April, SBA was able to continue reducing loan fees and provide higher guarantee levels through May 2010, or until the funds provided were exhausted. To see if this bill has been renewed or if a SBA program is right for you visit 
www.SBA.gov
. Questions regarding this program or any other lending programs contact a loan officer at The Seymour Bank and they will be pleased to assist you.
FDIC Coverage
On October 3, 2008 FDIC deposit insurance temporarily increased from $100,000 to $250,000 per depositor through December 31, 2013. Go to 
www.fdic.gov
 for more information.
April 5, 2010 | FDIC Coverage
Phishing
With technology and advances in web security more and more information is secure from cyber-criminals yet they have found an easy place to get it--you. Phishing (pronounced fishing) is a technique that criminals use to lure or trick a user to divulge information they would have not normally given. Contrary to common misconception phishers don't use the Internet exclusively, in fact some of the most effective phishing scams didn't take place in cyberspace, instead they used the telephone to call someone while pretending to be someone else, for example, your credit card company or the FBI. Regardless of the method of phishing, there is one common goal: your information. The Seymour Bank will never contact you and ask for your information over the phone, in an email or online. If you suspect in any way that someone is phishing for your information immediately terminate the transaction (hang up the phone, close the email or close the online session) and contact the company by telephone using a phone number from a trusted source like your local telephone book or address book--not from an email, text message or a phone number given to you in a phone conversation.
March 30, 2010 | Phishing